Submitted by Bob Bhatnagar on
Most of the hype surrounding the iPhone 5 display has been centered on its size, with industry observers predicting that Apple will increase the next generation display to 4 inches. New information points to an even more intriguing possibility, that the iPhone 5 will feature Sharp's IGZO display technology in a cutting-edge mobile touchscreen.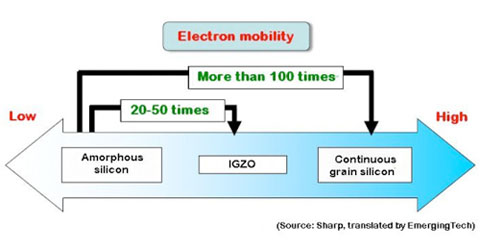 The diagram above from Semiconductor Portal illustrates the advantage of IGZO transistors. These indium, gallium, and zinc (IGZO) transistors replace standard amorphous silicon thin-film transistors in the Sharp components, which provide higher electron mobility. This means display pixels can be smaller and more light passes through the IGZO display.
One design advantage is that Apple can reduce the brightness and power consumption of the backlight. IGZO displays are only 25 percent thicker than OLED technology while using roughly the same amount of power. These displays also share the wide viewing angle of Apple's current IPS displays. With reports of power-hungry LTE wireless modems making their way into the iPhone 5, if Apple can trim thickness and battery power consumption elsewhere engineers can slim down the next generation iPhone.
Sharp has been providing display components for Apple products along with LG Display and Samsung for some time now. The partnership between Apple and Sharp is starting to take center stage, with Sharp said to be delivering next generation iPad 3 displays. Some have speculated that Apple's ongoing patent battle with Samsung has affected their relationship. What's clear is that the Apple and Sharp partnership has reached a new level thanks to the commercialization of IGZO display components.