Submitted by Frank Macey on
Sources have told BGR the iPhone 5 will indeed be a complete redesign, with an appearance much like the form factor of the iPad 2. The front glass of the next generation iPhone will be connected to an all-aluminum back via a rubberized bezel. The mockup below illustrates what the aluminum iPhone might look like.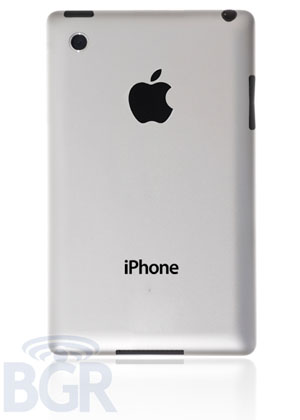 The bezel is said to be made of a similar material to the Apple Bumper cases. Not only would this bezel conceal a completely redesigned antenna system, it sounds like this would help make the iPhone 5 less slippery to hold. After all, the machined aluminum found on the iPad 2 is slick in more ways than one.
BGR is confident the next iPhone will not see the light of day until next fall, which puts the release date approximately one year after the iPhone 4S launch. The days of a summer iPhone release seem to have fallen to the wayside for the time being. When it comes to the cellular antenna, using the rubberized bezel would permit Apple to configure the antenna without needing a large plastic window as is seen on the AT&T and Verizon iPad models. It's not clear whether or not the Apple logo would provide a window for additional components such as the Wi-Fi antenna.
Although the source that spoke to BGR discussed the aluminum back and release date, no mention was made of the screen size or processor on the iPhone 5. Previous reports and leaks from Asian components suppliers point to a larger, IGZO display on the next generation device. This screen, reaching all the way to the bezel edge of the iPhone was expected this year, however Apple stuck with the current iPhone display on the iPhone 4S. The iPhone 5 will likely feature a next generation Apple A6 processor manufactured in Texas.