Submitted by Bob Bhatnagar on
What iPhone 5 release date? Even though there's still no official confirmation from Apple that the iPhone 5 even exists, reports are now surfacing that Foxconn is ramping up production of the mystery handsets to the tune of 150,000 per day. This puts Apple on track for over five million units per month ahead of a single announcement by the company revealing the new device.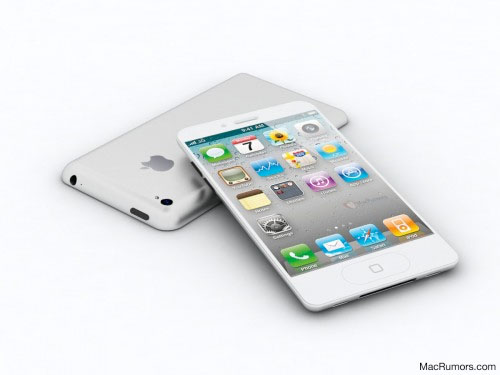 Above is a rendering concept produced by Macrumors based on leaked iPhone 5 case schematics from manufacturers in China. Despite Apple's apparent success at hiding the next iPhone from prying eyes, reports from the supply chain continually leak out indicating possible specifications and the status of iPhone 5 manufacturing.
It was only March when reports surfaced that Apple had started trial production of their next handset and the iPhone 5 release date was assumed to be delayed. Apple broke its cycle of releasing a new iPhone model every summer this year for the first time, and now industry watchers expect that the company will launch an iPhone 5 in the fourth quarter before the holiday shopping season.
Regardless of the specifications, iPhone users and others alike can't wait to get their hands on an iPhone 5. If the reports of Foxconn and Pegatron iPhone 5 production numbers is correct, this would put Apple on track to manufacture a whopping 22 million units before the end of 2011. This is actually aligned with what many Wall Street analysts believe Apple is capable of selling thanks to high demand. Apple could also be ramping up production before revealing the iPhone 5 to prevent the supply bottlenecks that have plagued previous iPhones, the iPad and iPad 2.