Submitted by Bob Bhatnagar on
New information is revealed every day surrounding the upcoming iPhone 5 design. As usual, Apple is silent as a whirlwind of leaks and rumors about next generation iPhone hardware makes its way to the public. Seen below is last fall's cool yet ridiculous handyflash concept, one of the first to appear.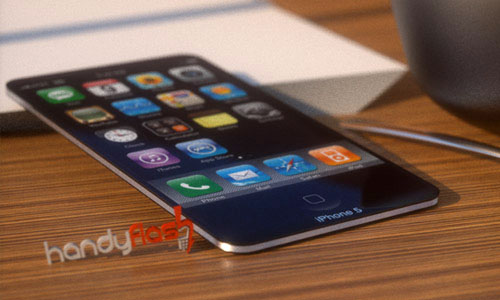 The truth is that Apple has been granted a patent for changes to its capacitive touch screen that could lead to thinner iPhones. As described by AppleInsider, separating conductive nodes from the touch surface reduces the hardware necessary for a touch screen and saves battery power. The patent was first filed in July 2009, but it's not clear if this new interface will make it into the iPhone 5.
Other hardware details have been leaked from Apple suppliers in Asia. Taiwanese supplier Kinsus is reportedly working on an update to Apple's A4 processor, currently found in the iPhone 4. The new System-on-chip (SOC) will be named the A5 or possibly the A8, and besides from increasing processing power, this silicon will include a baseband from Qualcomm. This fact could mean an iPhone 5 that works with multiple different network technologies on different carriers. Qualcomm announced a hybrid chip was coming to market in late 2009.
When it comes to graphics processing, Apple has been using the PowerVR SGX535 GPU since the iPhone 3GS. Thanks to the developer beta release of iOS 4.3, we know that drivers for the next generation PowerVR SGX543 GPU are included, so watch for the iPhone 5 to support a billion pixels per second and 35 million polygons per second at 200 Mhz. The new chip also supports Apple's OpenCL standard, which can be used to ease video processing loads on the main processor.
Finally, Apple has redesigned the antenna on the iPhone 4. It's not clear yet what the form factor of the iPhone 5 will look like, however should Apple continue with external radio antennas they will incorporate what they've learned into the device. The Verizon iPhone has antenna breaks in different places and includes optimization for the carrier's CDMA network. Those who have used the Verizon iPhone have not been able to replicate "antennagate" issues affecting some GSM iPhone users.