Submitted by Thomas Estilow on
A new report from DigiTimes states that Apple will release the iPhone 5 with a larger 4-inch display. Current and past iPhone models have always had 3.5-inch screens. According to the report, the move to a larger screen will help the iPhone compete against larger Android smartphone displays.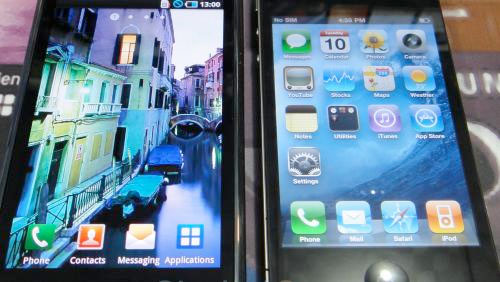 Shown here is a 4-inch Samusung Galaxy S pictured next to a 3.5-inch iPhone 4 from Emoiz. The possibility of a larger iPhone 5 comes hot on the heels of earlier news pointing towards a smaller, cheaper iPhone nano that would also come to consumers in summer 2011. If Apple does diversify its line of smartphones, it would be further filling the gap between the current iPhone and the 9.7-inch iPad tablet.
Along with the larger display, the iPhone 5 is reportedly going to ship with Apple's next generation A5 CPU (a Cortex A9-based multi-core chip). These two modifications to the iPhone line would help to insure that Apple keeps ahead of the curve when it comes to smartphone offerings. The market in Android phones keeps evolving and a screen size of 4 inches will soon be a minimum to compete in the sub-tablet size segment.
When it comes to processing power, DigiTimes expects that Apple will ship an enhanced version of the current A4 chip on the next generation iPad, reserving the A5 for the iPhone 5. Any smaller version of the iPhone would likely use previously released iPhone 4 components to keep the cost of manufacturing down and reduce pricing for consumers. Current leaks claim the iPhone nano would be between one-third and one-half the size of the current iPhone 4 form factor. Some reports have claimed that Apple will reduce the size of the iPhone by reducing memory and offering improved storage space on remote company servers.
Other rumors circulating around the mini-iPhone revolve around its screen, which is said to extend to the very edges of the device. The prototype, known as
N97
has been seen by at least one source talking to the Wall Street Journal. Apple COO Tim Cook seemed to discourage rumors of multiple iPhone screen sizes when he claimed that different hardware makes things difficult for software developers. iPhone watchers will have to wait until this summer to find out what Apple has up its sleeve.