Submitted by Bob Bhatnagar on
Macotakara brought news of the iPhone 5 having a curved aluminum back to the table (mockup below), now they report that Apple's next smartphone will be a variation on the iPhone 4 design, possibly named the iPhone 4S. According to sources, this device will launch in late July to early August and keep the familiar iPhone 4 form factor while packing upgraded hardware inside.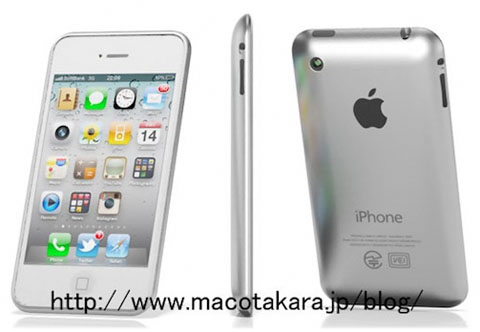 One major change will be an integrated SIM, saving space and dropping the need for a removable SIM card as in current devices. The iPhone 4S will also include several antennas and a Qualcomm hybrid chip that will allow the device to activate on either the Verizon or AT&T network.
The iPhone 4S follows in the footsteps of the iPhone 3GS, which followed the iPhone 3G with a faster processor while keeping the shape and design of the previous model. Apple will reportedly upgrade the camera in the iPhone 4S to an 8 megapixel model and move the LED flash away from the lens. Pictures have leaked from sources in Asia showing that the back of the iPhone 4S indeed has the camera located on one side with the flash separated and positioned on the opposite side of the back.
Macotakara also explains that a major redesign is coming to the iPhone in Spring of 2012. This entirely new iPhone could be dubbed the iPhone 5 or the iPhone 6, and according to AppleInsider may feature a new low-temperature poly-silicon LCD manufactured by Sharp that would provide for a lighter and thinner profile on the next generation phone.
All eyes are on Apple's WWDC starting next week, to see if the company will make an iPhone hardware announcement. Some had speculated that Apple would wait until September or October to release a new iPhone thanks to the late launch of the white iPhone 4. The invitations for the event focus entirely on iOS and Mac OS X, however Apple is prone to make surprise announcements when they have a new product waiting in the wings.