Submitted by Frank Macey on
According to DigiTimes sources in Apple's supply chain are expecting the company to use in-cell touch panels on the next generation iPhone. These panels combine color filters and touch sensors into a single layer, which reduces thickness.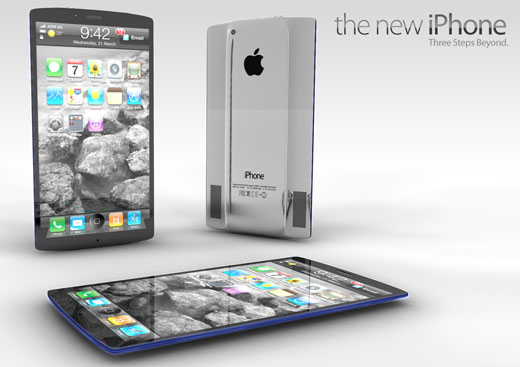 Toshiba Mobile Display and Sharp have stepped up production of the panels, making them an option for Apple's next iPhone. Although it doesn't reflect any known Apple prototype, the next generation iPhone concept above comes to us from Italian design studio ADR.
In cell technology is not the only way Apple plans to shave off iPhone thickness to compete against Android devices, which have pushed the limits of thickness below 8 millimeters. According to a report from MacRumors, Apple has several options up its sleeve to make the iPhone 5 thinner. Besides the in cell touch display, which could reduce the iPhone thickness by 0.5 mm, Apple can take other steps.
With current technology making it possible to drop 10 percent off of the battery thickness, flattening it would give Apple another advantage. Apple could also gain 0.5 mm by switching to a metal back on the outer casing of the iPhone. This would reduce the thickness of current iPhone 4S glass by half. Dropping 1.4 mm from the iPhone 4S profile in total nets Apple a next generation iPhone of just 7.9 mm.
Moving to in cell touch technology would also provide other benefits to Apple, including reducing manufacturing steps and simplifying design. The next generation iPhone specs won't be officially known for many months, but we hope that DigiTimes is correct and Apple plans to slim down the device.