Submitted by Frank Macey on
Another day and another iPhone 5 part leaks out from the supply chain. The component has been listed at SW-Box.com as a combination earphone jack, ear speaker and Wi-Fi cable for iPhone 5. Although the part is priced at $7.71 the item is marked out of stock at the moment.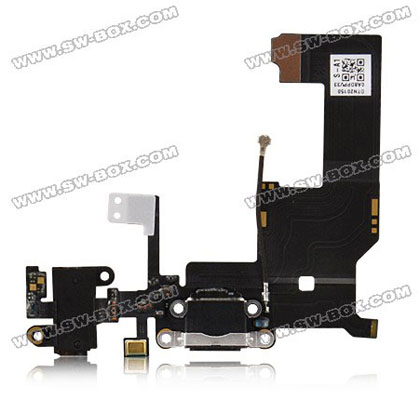 So what does the latest part tell us about the next generation iPhone? As MacRumors points out, the arrangement of the components is significantly different from the current iPhone 4S configuration. While the new part combines the three functions listed above, the current version groups the volume buttons, mute switch and earphone jack together.
The reconfiguration points to a complete redesign of the next iPhone, as opposed to a third model with the existing iPhone 4/4S form factor. Just recently, other purported iPhone 5 parts came onto the market, including a next generation SIM card tray and sixth generation iPhone home buttons. In both cases, the parts are similar to existing ones, but with noticeable differences in design.
Some have speculated that Apple plans to shrink the iPhone dock connector, while other reports point to a larger screen size in the works. iOS 6 is on deck for this year's WWDC in June, however it's unclear whether or not Apple will choose to reveal the sixth generation iPhone hardware at the event. One thing is certain, more parts from a redesigned iPhone are sure to be leaked in the meantime.