Submitted by Frank Macey on
Good news for those looking to buy replacement parts for a non-existent iPhone. The home button for the next generation iOS device is here, and it will cost you five bucks. The parts come to us direct from Shenzhen, China's TVC-Mall. The home button comes in white or black.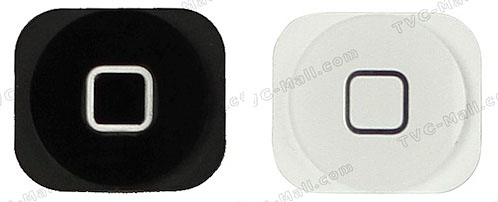 The only difference between the next generation iPhone home button and the iPhone 4S part is a wider recessed base around the outside of the central button. The current part has two tabs sticking out of the sides, instead of a rectangular base around the entire edge.
Obviously, if these parts are real Apple has no plans to change the shape or operation of the iPhone home button. Previous rumors pointed to an iPhone 4 or iPhone 5 with a wider, rectangular shaped home button that would help to accommodate a bigger display. This did not come to fruition and Apple has yet to change the fundamental home button design since the first iPhone in 2007.
Other rumors suggested Apple would ditch the home button entirely, adding a smart bezel to the third-generation iPad that would include gesture controls. It's not clear why Apple would change the internal design of the home button. The iPhone 5 or iPhone 6 is expected to appear on the market in fall of this year. We're sure to see many more parts leak ahead of the official release.
As
MacRumors
points out, the same home button parts are also available from Truesupplier in
black
or
white
for $8.99 a pop.