Submitted by Bob Bhatnagar on
One of the major league mobile case manufacturers temporarily made an iPhone 5 product website live ahead of schedule. Apple hasn't even officially announced the product yet, however Case-Mate posted a page detailing several different case designs wrapped around a brand new next generation iPhone. According to the images, the next Apple smartphone will have a thinner design and aluminum back.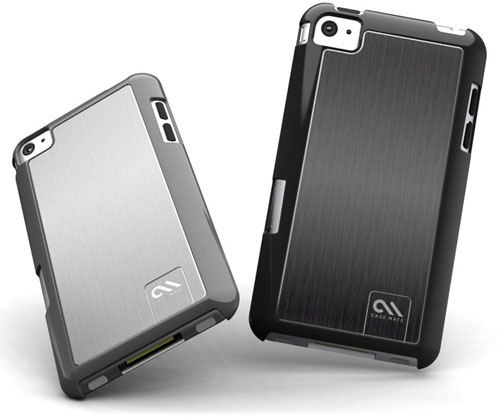 Unfortunately the leaked images don't reveal much of the front side. Still, it would appear as though the mute switch was moved to the opposite side of the device as has been previously seen in other leaked case designs. The cases were pictured in at least three different styles with multiple colors.
Although the cases in the Case-Mate page suggest a flat back along with a bevel around the edge much like the iPad 2, it's difficult to make any estimation of size from the renderings. Many rumors have pointed to the iPhone 5 having a larger screen and smaller bezel than the current model. Some information had pointed towards Apple moving the camera away from the built-in flash as well, but these renderings show the camera and LED flash on the same side of the device.
Some might recall that the iPhone 3G body style was inadvertently leaked a month before release, and most observers expect Apple to launch the iPhone 5 in October. Another interesting part of the Case-Mate leak is their explicit mention of an iPhone 4S. Whether or not they are just riding the wave of rumors like everyone else or they have advance information from Apple remains to be seen. Case-Mate is not the only manufacturer to mention the next generation iPhone on its website, although the landing page containing the iPhone 5 case renderings has been pulled down.