Submitted by Bob Bhatnagar on
More reputable sources are coming out of the woodwork and pointing to inside information that Apple plans to release a redesigned iPhone by the end of September. None other than the Wall Street Journal reports that key components have already been ordered, including an improved 8 megapixel camera that will be installed in the back of the next generation device.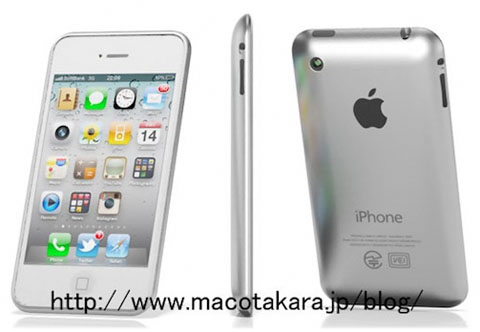 The mockup above may look slick, however sources have told the Wall Street Journal the iPhone 5 will be more similar to the current generation iPhone 4 form factor. Regardless, Apple has redesigned the handset and the new model will be thinner and lighter than the iPhone 4. Other changes are coming to the hardware inside the device.
Apple is said to be abandoning chips made by Infineon Technologies and instead placing Qualcomm chips in all iPhone 5 models. Currently Qualcomm manufactures hybrid chips that are installed in Verizon Wireless CDMA iPhone 4 variants, although the GSM functions of the chip are not enabled. This change could allow Apple to produce one iPhone for both AT&T and Verizon customers in the US.
Previous reports that the iPhone 5 would feature a larger, curved screen were not corroborated by the WSJ. The paper did say that Apple originally planned to launch the iPhone 5 this summer, but the device wasn't far enough along. Apple still has concerns with its manufacturers including Hon Hai Precision Co. being able to meet demand, which could postpone the launch date until even later in the fall.
Speculation on the iPhone 6 launch in 2012 was also mentioned, with Apple said to be working on new ways to charge the device. A less expensive iPhone model could also be launched to help combat Android competition. Apple has sold almost 109 million iPhones since the product was first launched in 2007.