Submitted by Frank Macey on
Chinese iPhone case manufacturers aren't just leaking photos of their next generation products online. According to MICGadget iPhone 5 cases are "everywhere" in China and ready for distribution. If you're willing to buy a minimum of 500 cases the wholesale cost starts at 30 cents a piece.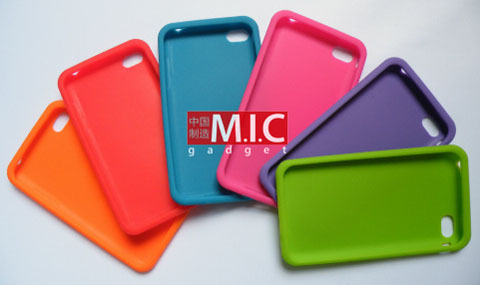 The cat is out of the bag, and the proliferation of similar case designs now serve as a good indicator of the shape of the next iPhone. New evidence from AT&T and Apple point to a September iPhone 5 launch date only weeks away.
The Chinese cases themselves show a slightly larger and longer iPhone profile, possibly indicating a bigger screen size. Another notable change is that the iPhone 5 form factor is slightly rounded almost like an iPad 2. In addition, there's a slight taper from top to bottom in the thickness of the device. These silicone cases pictured above also show the silent/ring switch moved to the opposite side away from the volume buttons, which are now alone on the left corner.
Previous rumors that Apple was moving the LED flash away from the camera lens do not appear to be substantiated in these photos, however an eight megapixel camera in the iPhone 5 has been confirmed. Now that these cases are in the wild, it remains to be seen whether or not Apple will throw a curve ball or everyone's shiny new iPhone 5 will fit in these cases come fall.