Submitted by Pete Sofflaw on
If you have you ever wished your iPhone was more like Batman's utility belt then you should check out the ReadyCase Indiegogo campaign. The surprisingly thin case (less than 3mm thick) not only protects your iPhone, but it also crams in a multi-tool, a USB memory stick, a kickstand, a headphone clip and three lenses for the iPhone camera.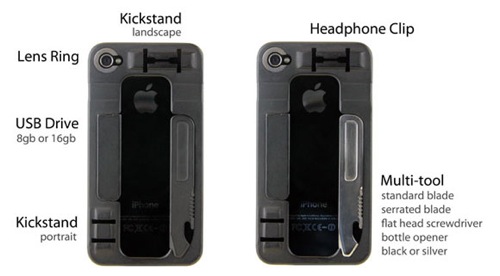 The case ships with a knife / screwdriver / bottle opener multi-tool, your choice of 8GB or 16GB memory stick (which doubles as a kickstand) and an integrated lens ring for attaching a variety of lenses (a macro lens, a fish eye lens and a wide angle lens) specifically designed to work with the iPhone. The case keeps is slim pocket-friendly design by allowing you to snugly attach the multi-tool and memory stick to the back of the case, and the headphone clip eliminates knotted cord headaches by keeping your EarPods tangle free.
The creators of the ReadyCase are currently seeking donations via Indiegogo. A $40 donation will nab you the 8GB model without a lens kit. A $60 donation gets you the 16GB model with all three lenses. All donations are less than the expected retail value and include iPhone 4/4S and iPhone 5 bodies. Head on over to the ReadyCase Indiegogo page for more information or to make a donation.