Submitted by Frank Macey on
The ultimate protective case for the iPhone has finally arrived. Marudai has designed this extraordinary iPhone case with a 1-inch thick armored plate capable of stopping a 12.7mm round. Pictured below is the case along with a commemorative dummy bullet that will ship with your case.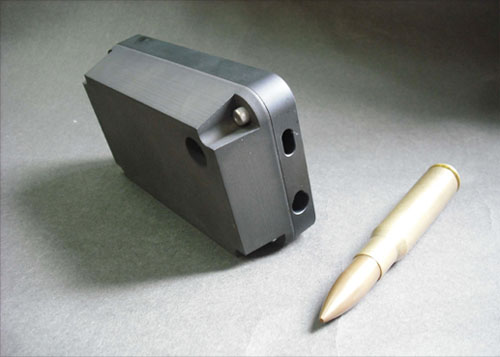 The manufacturer warns that calling should be performed with both hands, as dropping the rig on your foot could cause damage. Complete protection like this weighs in at a whopping 4.6 pounds. The iPhone is installed inside the case with an included hex wrench, used to tighten four M4 cap bolts.
The back of this bulletproof case is so thick that photos taken with the back camera have a circular ring bordering the image. An acrylic lens fills the gap between the iPhone lens and the outer boundary of the armor plating. The front of the unit is machined aluminum, and comes in both black and white to complement the iPhone inside.
Of course, the Marudai case has openings in all the right places for button access and even has a slot for charging and syncing so the case doesn't have to be removed. After all, you never know when you might have to block a .50 caliber bullet with your smartphone. You can purchase the bulletproof case from Marudai in Japan for approximately $650 US.