Submitted by Marshall Walker on
If you're always forgetting important events like birthdays and holidays CleverCards is the app for you. The free app easily syncs to your Facebook friends list so you'll never miss another birthday notification. It is also the perfect tool for lazy or busy people who don't want to go through the trouble of buying a card or using a third-party website to create an eCard. All you have to do is sync your friends list, then add those few annoying people like Grandma who don't have a Facebook account, and you're ready to go.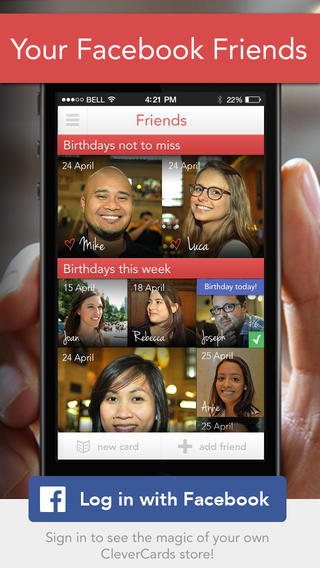 Once set up, the app will send your push notifications for every birthday listed on Facebook or that you manually added. You can then use the service to send a traditional printed card via snail mail for around $3, or send an eCard through Facebook, email or SMS for free.
Creating a card is easy and it doesn't take much time to complete and send. The best feature of the app is that it helps you avoid trips to the post office if you want to send a physical card. You can also pull images from your loved one's Facebook page, use pictures from your Photo app or take a new photo using your device's built-in camera to customize your gift.