Submitted by Marshall Walker on
The popular third-party browser Dolphin has been updated with a new voice-control feature. Dolphin Sonar allows users to search the web and navigate websites by using simple voice commands. Downloading version 4.0 adds a familiar looking microphone icon to the bottom left of the browser. Users can can easily access the Dolphin Sonar by tapping the icon or shaking their iPhone. The new voice control system eliminates the need for typing while searching Google or messing around on Facebook. Just tell Dolphin Sonar where you want it to go and it will lead you there.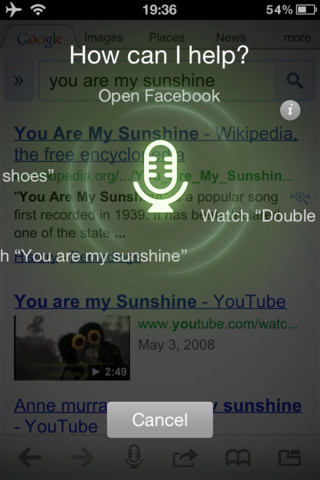 The Dolphin Browser also features a magazine reader Webzine, one-click sharing for Twitter and Facebook, and Gesture, which allows you to create a personal symbol to access the websites you like the most. Dolphin Browser is compatible with the iPhone, iPod touch, and iPad. It requires iOS 4.0 or later.