Submitted by Marshall Walker on
Apple has released iOS 4.3.5 to patch another security hole. The last update released only a few weeks ago patched the PDF exploit used by hackers to release the latest jailbreaking tool. This update is to stop "an attacker with a privileged network position" from stealing your data while you're surfing the web. If your iPhone or iPad is jailbreak free, or you don't plan on jailbreaking it in the future, accepting the update is probably a good idea. However, the current redsn0w 0.9.8 jailbreak hack still works with the update.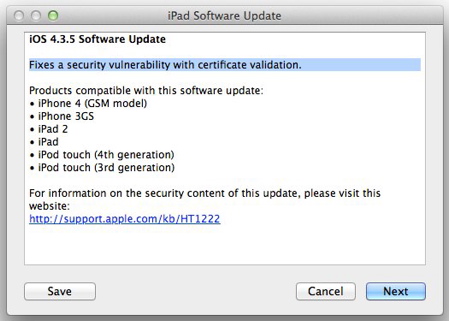 Just connect your device to your computer and "check for updates" to download iOS 4.3.5 for your iPad, iPod touch (3rd generation), iPhone 4, iPod touch (4th generation), iPhone 3GS. The Verizon update is labeled 4.2.10.