Submitted by Anders Batten on
The popular iPad weather app, Morning, is now available for the iPhone. Morning by Tamper was selected by Apple as one of the best apps of 2013. It is a minimalist app designed to "make your routine easier" by allowing you to customize various "panels" for Weather, News, Stocks and so on.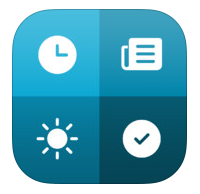 Users can easily keep track of six categories at one time and select which category is featured front and center. Each category also features its own edit button and different customization options. For example, you can set the Weather panel to show you the high and low, humidity, wind speed and so on in a different country. The Time/Date category features a 24 hour clock, and the Reminders panel is capable of syncing to your device's Reminders app. The other panels include a Commute option for traffic updates, a daily Calendar, and a Countdown timer so you will never miss another appointment.