Submitted by Frank Macey on
With Black Friday shopping right around the corner, Target has released a new version of their app optimized for iOS 7. The free Target app now features a clean new interface, including the iOS 7 swipe to go back gesture. While the shopping companion requires iOS 7 or later, the app can be installed on compatible iPhone, iPad or iPod touch units.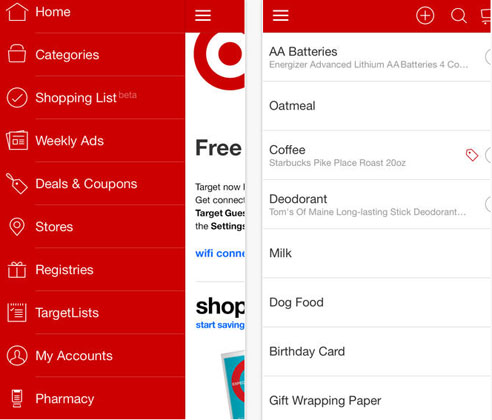 Build shopping lists, check for sales, and swipe to check off items once purchased. Opening the app in a Target store makes it possible to see current deals and trending products at that location. Cartwheel discounts can also be viewed, for those participating in the Target loyalty program. Target for iOS 7 will even add offers to your Cartwheel app.
Some exciting new beta features are also active in version 6.3 of the Target app. Store maps make it easier to find specific items, and accuracy is now improved. Having trouble deciding on an item? Select the item in your shopping list to see all the options, and if the item is in stock at your local Target store. For the time being, these features are limited to "Minneapolis, Seattle, Chicago and all City Target locations".
Here are the details from iTunes:
- Design: Say hello to iOS 7 with updated designs and swipe-to-go-back.
- Shopping List: Build your lists faster with improved typeahead results. See which items in your list are on sale. Then, simply swipe right to check it off your list.
- What's in Store: Open the app in any Target store to be inspired by trending products, deals across the store, popular Cartwheel offers and recipes.
- Save: See an item with a Cartwheel offer? Add it to your Cartwheel app with a single tap.
Beta Features
- Find: Maps are now more accurate with better support for multiple floors.
Whether a specific product or a generic item, the new shopping list will show you where to find it on your store map. As you check items off, we'll show you the next item nearest to you.
- Decide: Tap on an item in your shopping list to see what options are available and if it's in stock in your store, even from the comfort of home.
Grab the Target app to make the most of your shopping experience with iOS 7.