Submitted by Bob Bhatnagar on
Sure it may not happen right away, but one developer has already found evidence pointing to a future compatibility between iMessage on iOS devices and iChat on Mac OS X computers. The snippet of code leading to this conclusion revealed two new properties in OS X Lion's version of iChat software.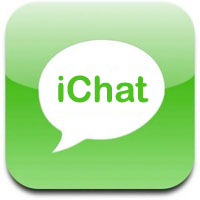 These properties could be the beginning of Apple adding full support for iMessage to iChat instant messaging. The "time delivered" and "time read" fields are not used or needed in iChat, however they are already used by iMessage to track instant messaging. According to MacRumors Apple would have no other reason to add these lines of code.
Apple has officially stated that iMessage will only allow iOS device owners to communicate using the service. Those on other smartphones or tablets would be forced to use a solution such as AIM, Windows Live Messenger, Yahoo Messenger, ICQ, Skype or another of the many products available. RIM has offered a similar service to iMessage for BlackBerry owners for some time. Of course, the elephant in the room is text messaging, a service that provides much revenue to cellular carriers.
If iMessage follows in the steps of FaceTime and becomes available on Apple computers as well as their mobile devices, it could further dent the hold that text messaging currently has on the iPhone and other smartphones. AT&T recently dropped their lower tier text messaging plan in a transparent attempt to preserve revenue. When iOS 5 hits and iMessage eventually spreads to other devices Apple could usher in the end of the SMS era.