Submitted by Marshall Walker on
Guess the Jew was a game made popular by shock jock Howard Stern in the 80s, but a French anti-racism group didn't find it funny when a French version of it appeared in the Apple app store. The app entitled "Juif ou pas Juif?" was selling for 0.79 euro cents ($1.08) in France until Apple pulled the plug after complaints. The group SOS Racisme argued that the app, which allowed users to determine if a list of celebrities were Jewish or not, violated a French law that outlaws compiling of people's personal details.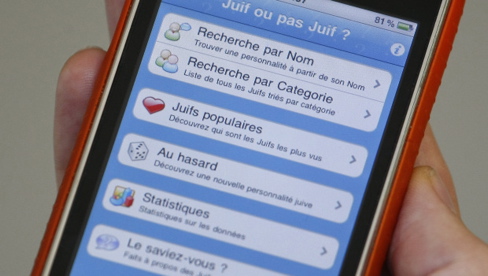 App developer Johann Levy told the Le Parisien newspaper that he's not a spokesman for "all Jews" and he meant for the game to be "recreational."
"As a Jew myself I know that in our community we often ask whether a such-and-such celebrity is Jewish or not," Levy said ."For me, there's nothing pejorative about saying that someone is Jewish or not. On the contrary, it's about being proud."
The app is currently available in the U.S. app store for $1.99.