Submitted by Marshall Walker on
Yelp users no longer have to wait until they get home to review Amy's Baking Company and Jersey Joe's Pizzeria. Yelp version 7.0 adds the ability to write full reviews directly from your iPhone. Yelp users could only previously write "Tips", or short reviews from their mobile devices, but the new review feature now allows Yelpers to write lengthy posts on-the-go. Short reviews that are not considered "high-quality and useful" will be resubmitted to the Tips section by the Yelp staff. However, the reviewer has the ability to edit and add more detail to his or her review at a later date. Uploaded photos will also now appear alongside a person's mobile review.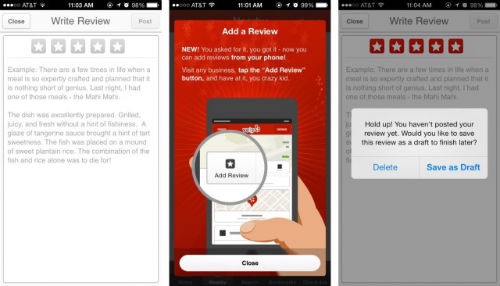 To write a review while using your iPhone, just locate the business you want to review, and tap the "add review" icon at the top of the page. It's that easy. Yelp version 7.0 is now available for all supported iOS devices. The mobile review option is "coming soon" for Android devices.
The Yelp app is free to download from the Apple App Store. It allows users to locate, rate and review local business. Users can search by distance or price, find local deals and upload photos of their favorite places to share on Facebook and Twitter.