Submitted by Bob Bhatnagar on
Now iPhone owners have another way to join Android users in a video chat. Qik Video Connect Plus has been released on iTunes for $2.99. A free version is in the works and is currently being reviewed by Apple. For those who are not familiar with Qik, the app offers an alternative to FaceTime and has been pre-installed on many Android devices.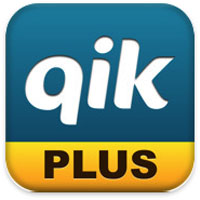 Besides real-time video calling, Qik offers a variety of other features. Video mail messages can be sent to friends, and live video can be broadcast on the web for your contacts to watch live. The plus version of Qik includes real-time video effects, syncing with the camera roll and support for HD video.
The app works on Wi-Fi, 3G and 4G cellular data networks across platforms, so iPhones can seamlessly connect with Android devices. The app requires iOS 4.1 or later and a built-in camera. All video recordings are saved to your online gallery automatically for safe keeping or optional sharing with friends. Of course Qik comes with YouTube, Facebook and Twitter integration as well as a newsfeed featuring videos from all of your contacts.
Qik is fully integrated with your iPhone contact list and will let you know when your friends are connected and ready for a video chat. Qik supports over 30 different mobile devices and millions of people worldwide use the Qik app. The company was acquired by Skype in January, however it continues to produce its own branded software products. Stay tuned for the free version of Qik to hit the App Store soon.