Submitted by Bob Bhatnagar on
Now iPhone owners have another way to join Android users in a video chat. Qik Video Connect Plus has been released on iTunes for $2.99. A free version is in the works and is currently being reviewed by Apple. For those who are not familiar with Qik, the app offers an alternative to FaceTime and has been pre-installed on many Android devices.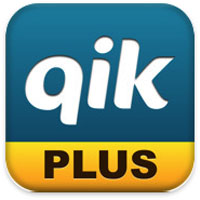 Besides real-time video calling, Qik offers a variety of other features. Video mail messages can be sent to friends, and live video can be broadcast on the web for your contacts to watch live. The plus version of Qik includes real-time video effects, syncing with the camera roll and support for HD video.