Submitted by Frank Macey on
Missing the days of record players, cassette tapes and compact discs? The days of the iPod may even be numbered now that Apple has changed the iPod app icon in iOS 5. If you're looking for a dose of nostalgia, here are some iPhone apps that will make your music player a little more interesting.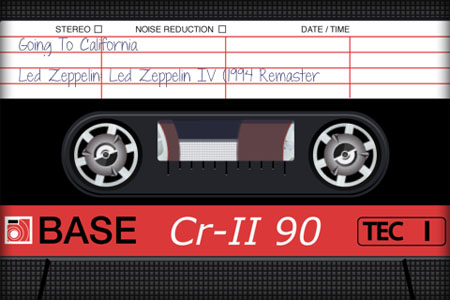 First off is AirCassette, which brings back the Sony Walkman and homemade mix tapes for $1.99. AirCassette is the most versatile of the bunch, and has graphics simulating several different blank tapes to choose from.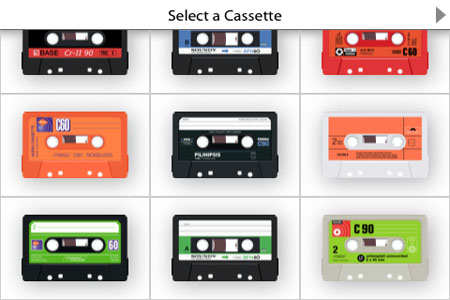 The app is AirPlay compatible and song queues can be created while music is playing. These queues can be saved as mix tapes, and track listings can be shared with friends using email or Facebook. The reels spin when music is playing, while the title and artist of the track appears on the cassette label. To skip through tracks just tap the reel and the cassette will fast forward or rewind.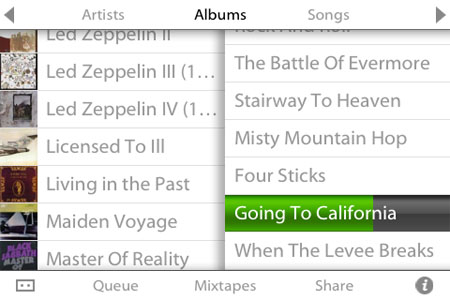 The interface provides easy access to artists, albums and songs. If a cassette player isn't old enough for you, then convert your music library to vinyl.
VinylLove Pocket
does just that, and turns your iPhone into a miniature and stylish record player. The stylus can be placed to the side when not in use, while a power switch turns on and off the turntable. VinylLove also runs $1.99 in the App Store.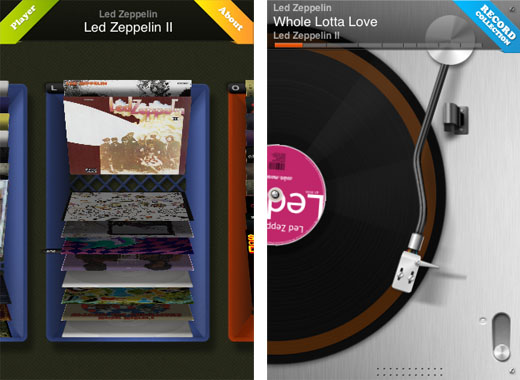 The music collection is portrayed as album covers in milk crates that can be flipped through. To switch tracks you have to drag the stylus over the spinning record. Records can be scratched back and forth while playing. Overall VinylLove is visually appealing but not as functional as a music player as AirCassette. Dust and scratch noises are also overlayed on top of your music tracks, which may be retro but can't be turned off.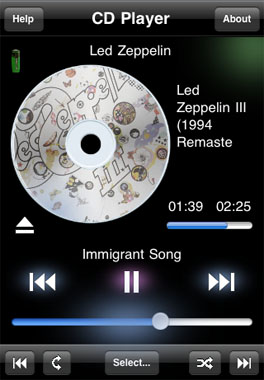 Finally CD Player will set you back $0.99 and add a spinning representation of a CD to your tracks as they play. Buttons are designed to emulate CD player buttons and holding down search quickly and audibly scans through a track, just like a CD player. The CD in the app spins a lot slower than real CDs, but at least you don't have to worry about cleaning the laser lens.
We'll keep looking for apps to simulate the telegraphone, phonautograph and an 8-track tape player. Until then, the three apps above provide something different than the stock Music app and play your tracks in retro style.