Submitted by Thomas Estilow on
Car sharing using your iPhone has never been easier. The free Zipcar iPhone application has a multitude of features that make finding and renting a car incredibly convenient. There's even a virtual key fob.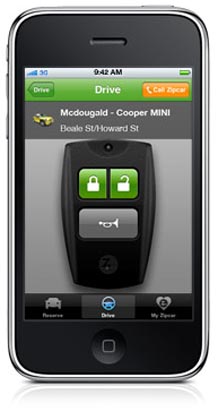 Yes, you can lock and unlock the car and even set off the panic alarm using your iPhone. All you need to do first is scan your Zipcard when the car reservation begins.
When it comes to making a reservation you can start out by looking at a map of where all the Zipcars are parked and which ones are available. Cars can be browsed by time available, type of vehicle or the model of the car.
When you've narrowed down your car search the reservation is made for the time you want right on the iPhone. If there are any problems you can call Zipcar right from the app. Reservations can be extended on your iPhone as long as the car hasn't been reserved by someone else.
The car's home parking spot can be viewed, as well as upcoming reservations on your account. If the vehicle is damaged you can report this directly from the Zipcar iPhone app.
Non-members can:
- Find available Zipcars on a map using current, favorite or any location
- Browse car types and models
- Make your iPhone go beep beep
Member features:
- Reserve Zipcars around the corner or across the globe
- Find cars by time available, car type and model
- View, extend or cancel reservations on the go
- Honk your Zipcar's horn with your iPhone to find it in a crowd
- Unlock and lock your Zipcar with your iPhone after scanning your Zipcard at the start of each reservation