Where is the iPod app icon in iOS 5?
In case you hadn't noticed, Apple has replaced the orange iPod app marked "iPod" with a completely new icon and label. Don't go looking for the iPod icon, it's no longer there.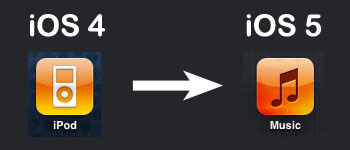 The new app is labeled "Music" and has a redder looking icon with a note silhouette in the middle. Strangely, this note icon does not match the recent iTunes icon change. iTunes previously used a rendering of a CD in its icon but now features just a curved note inside a blue circle.