Submitted by Marshall Walker on
Having sold over one million iPhone 4S pre-orders, Apple has decided to open their stores early to meet the demand of the best selling iPhone ever.
"We are blown away with the incredible customer response to iPhone 4S," said Philip Schiller, Apple's senior vice president of Worldwide Product Marketing. "The first day pre-orders for iPhone 4S have been the most for any new product that Apple has ever launched and we are thrilled that customers love iPhone 4S as much as we do."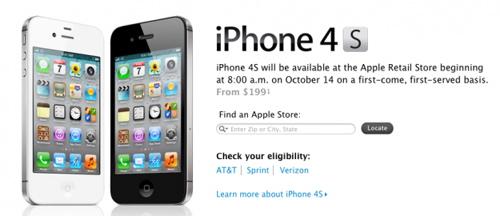 All 245 Apple retail stores in the US will open at 8 am local time on Friday, October 14. Good news if you plan to get up really early or camp out the previous day. Bad news if you have to work, or are a late sleeper.
Apple asks that you upgrade your existing iPhone to iOS 5 and bring it along if you plan to replace it. You will also need the social security number of the account holder, photo ID, your carrier password and Apple ID and password.
People who buy their iPhone 4S at an Apple location will be offered a free Personal Setup service.
The iPhone 4S is $199.99 for the 16GB model, $299.99 for the 32GB model and $399.99 for the 64GB model. All prices require a new or upgraded contract.