Submitted by Thomas Estilow on
Waterford has been in the news lately as they have redone the crystal on the famous New Year's Eve ball for Times Square in New York. What you may not have heard is that the company has developed an iPhone app called Waterford Clink-Clink.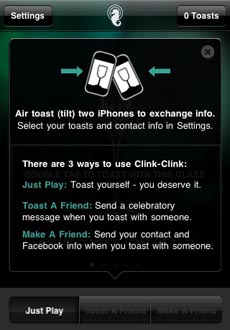 Believe it or not, the application is more useful than it sounds. Besides displaying a virtual glass of champagne that tilts when your iPhone tilts, the app can be used for sharing contact information and social networking.
In addition, every time you "toast" with your iPhone the app makes a clink sound and displays text from one of 100 different toasts in its library.
Contact with the other iPhone is not necessary to toast, but both devices must be running Clink-Clink in Make A Friend Mode to share information. Toasts can be sent to another iPhone or posted on a Facebook wall.
You can select between five different Waterford Crystal glasses and limit the toasts that are displayed by event genre (New Year, Birthday, Wedding and more). Waterford is featuring a Toasts Tracker that counts the number of global toasts. When the number hits 2010 the company says it will send out promotional codes for a special offer.