Submitted by Bob Bhatnagar on
Weather radios can save lives by warning people that dangerous storms are on the way. The iMapWeather Radio iPhone app takes this concept a step further by feeding real-time weather warning information for your exact location directly to your device. The developer, Weather Decision Technologies, is having a one-day sale on Thursday, May 19 and offering the app for free.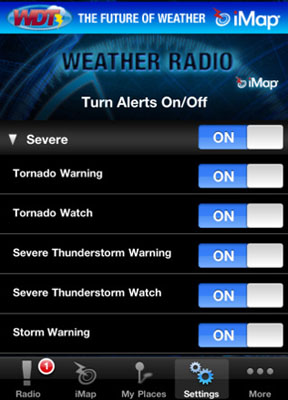 The first 100,000 people to download the app can take advantage of the promotion, after that the price will jump back up to $9.99. The sale will be on for 24 hours starting at midnight EDT. The app is compatible with Apple devices running iOS 4.0 or later and available on iTunes. So why should you download this weather radio app?
Severe weather such as tornadoes and thunderstorms can cause damage and injury quickly and getting a warning in time can be the difference between life or death. iMapWeather Radio knows your location thanks to the iPhone's location services, and can customize warning alerts for your specific location. Not only this, but you can set up five stationary locations to receive real-time weather warnings on these places as well. This means you can monitor severe weather in your own vicinity and at home or at family member's residences as well.
Your iPhone will wake up and deliver text alerts if your location falls within the watch or warning boundaries and danger is near. No need to look at the iPhone either, as the app explains the warning audibly after a series of tones, just like a normal weather radio. The app will even follow you as you move to provide updates and in participating markets video weather information can be watched. Weather Decision Technologies also explains that the GPS usage is dynamically reduced to save battery life on your iPhone.
The weather never stops, and iMapWeather Radio is ready 24 hours a day wherever there is a data connection to issue US weather alerts. Grab this app for free on May 19th.