Submitted by Frank Macey on
Ever wish you could carry around an old Super 8mm film camera in your pocket just to get that unique looking footage? The Super 8 iPhone app converts your iOS device into a retro film camera without all the trouble of film developing, light leaks and mechanical malfunction. The app even features a projection room, where you can pull down a screen and watch your edited creations.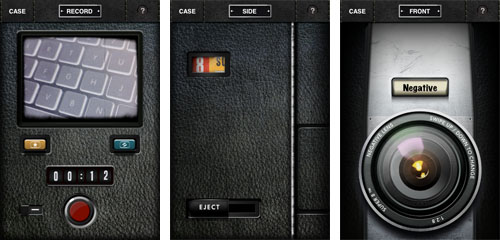 Super 8 is free for a limited time, and is part of a promotion for the real-life movie directed by J.J. Abrams titled Super 8, which will be released by Paramount Pictures on June 10. As you play back your films in the projection room the app ties into the movie by revealing missing frames which can be collected to unlock clips on S8editingroom.com. When it comes to the recording capabilities of Super 8, the app is a full-featured retro film machine.
Besides the requisite scratch and dust effects, there's a shake feature that will make frames skip when you shake the iPhone. Several other effects frame the scene or give the appearance of light leaks and film processing errors, adding character and Super 8mm flair to your iPhone video. Several lenses are available which change the look of the film, such as negative, black & white, color and sepia among others. Films can be edited within the app and viewed, exported to the camera roll, or emailed directly from the app.
Playback of course results in an incredibly loud mechanical film noise just like the real thing, and leaders and credits can be added when rearranging your clips before you "develop" your finished masterpiece. The interface involves spinning the camera around to perform various functions. Inspect the case and you can read an instruction manual that looks like it's been sitting in an attic for decades or peruse your collection of Super 8mm cassettes. Super 8 was developed by QMx Interactive and Bad Robot Interactive to promote the movie but also stand alone as a creative tool. Download Super 8 while it's still free and send your iPhone and its videos back 40 years.