Submitted by Bob Bhatnagar on
Apple is celebrating the one year anniversary of the App Store for iPhone and iPod Touch. Along with all of the fanfare and featured apps came a lot of impressive statistics. Apple has left the competition in the dust, with 65,000 mobile applications released to date.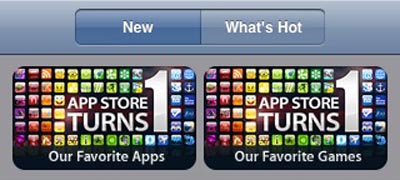 Over 1.5 billion copies of these apps have been downloaded since the inception of the App Store one year ago. Apple CEO Steve Jobs remarked, "The App Store is like nothing the industry has ever seen before in both scale and quality."
Now when opening the App Store, iPhone and iPod Touch users are greeted under the Features tab with menus featuring Our Favorite Applications and Our Favorite Games. Each sub menu is divided into Featured, Popularity, and Release Date lists of apps.
40 million iPhones and iPod Touch devices capable of running App Store software have already been sold. Since the opening of the App Store, the download rate for applications has continued to accelerate at breakneck pace.
Apple claims to have 100,000 developers in the App Store developer program, and charges them $99 annually for the privilege. The company also takes takes 30% of total revenue from the sales of each paid app.
Apple has indicated that the main purpose of the App Store is not to generate revenue, but to change attitudes about mobile computing and drive hardware sales.
Regardless, estimates of App Store revenue to date have ranged from $20 million up to a few hundred million for the first year. In-app purchasing, introduced in iPhone OS 3.0, is sure to increase these numbers even more quickly.
Apple has yet to release actual revenue numbers from the App Store.