Submitted by Bob Bhatnagar on
Recently revealed patents point to Apple developing a native location reporting app that would make it possible to broadcast your iPhone location to friends and see who's nearby. The patent, filed in June 2009, is titled "Push-Based Location Update" and is credited to four Apple engineers.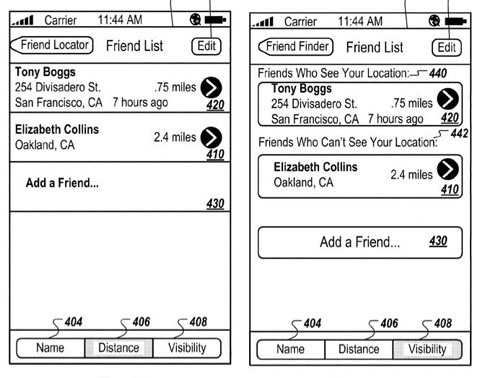 The Friend Locator app would track users based on their iTunes account login, and feature voluntary privacy controls such as blocking individual users from seeing your location. Those who have their iPhone set to push location updates will be listed along with their location and the distance, or as a push pin on a map.
Location services can be set to automatically update the service or use only manual updates similar to a Foursquare check in. Apple is competing directly against Google's Latitude service, which finally launched in the App Store last week. Apple had said it was evaluating the app and they were concerned it could confuse users of the built-in Maps application. Google Latitude boasts nine million active users.
When it comes to location services and GPS, speculation has centered on Apple's recent acquisitions of mapping companies Placebase and Poly9. Recent reports have indicated that Apple might offer a native navigation app that would speak directions to iPhone owners for free. With this patent on the books, it seems that the Apple Geo Team has its hands full developing a variety of new built-in features for a future iOS devices.
The iPhone 5 is expected to ship in summer 2011. Apple could include Friend Locator and voice navigation applications on the next generation device, however the company normally keeps tight-lipped until several months before a new product is available. Stay tuned for updates on new location services coming to future iOS releases.