Submitted by Bob Bhatnagar on
The day has finally come for fans of the TomTom iPhone car accessory. The device, which acts as a dock for your iPhone can be ordered through the Apple Store. Unfortunately the product will not ship for another 2-3 weeks.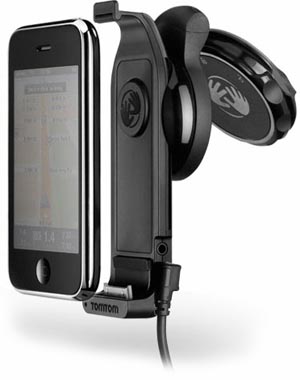 For a price of $119.95 and free shipping, the TomTom car kit will provide an external speaker for turn-by-turn GPS navigation. It plugs into the car with a cigarette lighter adaptor to provide power to the iPhone.
Affixing the entire assembly to the windshield of the vehicle makes hands-free operation possible just like any other stand-alone car GPS unit.
TomTom originally stated the device would ship in October. According to reports, some European customers have already been able to pick up the TomTom iPhone car kit in local Apple stores.
TomTom iPhone software is currently available on the App Store at a price of $99.99 (US and Canadian version). Several other countries and regions are also available for download.
Although the dock will fit all models of iPhone, the TomTom navigation app will only work using the iPhone 3G and 3GS running iPhone OS 3.0 or later. The device will charge your iPhone and has an audio out jack for connecting to the car stereo (compatible audio cable is not included).
The kit has a built-in GPS receiver that enhances the signal to your iPhone, and pivots so that you can view navigation directions in landscape mode.