Submitted by Bob Bhatnagar on
TomTom's iPhone car kit accessory should hit shelves any day now. The device is currently under review by the FCC, and with added software will provide turn-by-turn directions while fixing the iPhone or iPod Touch on the car windshield.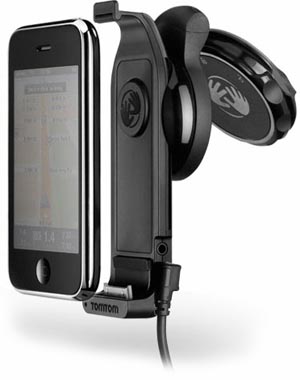 It works in conjunction with the TomTom iPhone application, available now on the App Store for $99.99 (US and Canada version). The car kit has its own GPS chip, making it possible that other third-party navigation apps can be used with the accessory in combination with an iPod Touch or iPhone.
The TomTom car kit comes with a 12V adapter to charge the iPhone using the cigarette lighter plug. According to the user manual the device uses Bluetooth in conjunction with the iPhone.
TomTom's IQ route software calculates the fastest route for any time of day. There are also local points of interest such as gas stations and hotels listed in the software.
Still no word on an exact release date for the car dock accessory or how much more the device will cost in addition to the software.
These versions of TomTom software are currently available on the App Store:
- US and Canada
- Australia (may be illegal to use navigation on a phone in some areas)
- Benelux
- Iberia
- Western Europe
- UK and Ireland
- France
- Nordic
- New Zealand
- Italia
- D-A-CH