Submitted by Bob Bhatnagar on
Skype has released version 3.0 of its iOS application with full support for 3G video calling to other Skype members. This app will give FaceTime a run for its money, as Apple's video conferencing solution is currently limited to Wi-Fi only.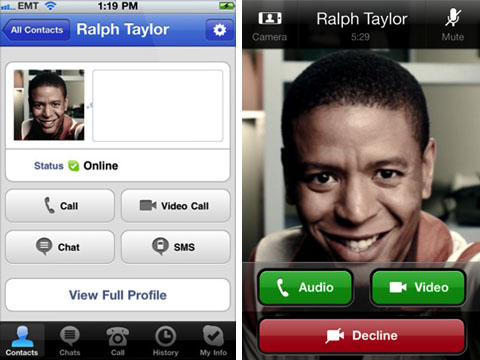 The Skype app of course supports audio calling for iPhones lacking a front facing camera and Skype text chat. Skype 3.0 is available now on iTunes for free and works on iPhones running iOS version 3.0 and later.
Skype first announced that it was developing a cellular data network (3G) compatible version of its popular video calling software in February of this year. Video quality depends heavily on available bandwidth, and as a result Wi-Fi video calls generally look better than those made over a 3G connection.
Skype boasts over 124 million monthly users, and was slow to bring 3G video calling to the iPhone due to quality concerns. Apparently the company did not collaborate or consult with AT&T, the exclusive wireless carrier of the iPhone in the US, about adding 3G video calling to its application. AT&T changed its data plans to a tiered model this year in an effort to conserve bandwidth on its struggling network.
Bandwidth needed for a video call will chew up many capped iPhone data plans if not watched. The app uses roughly 3 MB per minute when video calling over 3G. With all the talk of a
Verizon iPhone in the works for early 2011
it's still unclear when official Skype video calling will come to Android. Verizon currently has an exclusive deal for Skype video calling on its Android smartphones in the US.
Eventually, with the AT&T exclusive contract on the iPhone ending, we can expect that more barriers will fall and Skype video calling will be ubiquitous on mobile devices one day.