Submitted by Sammy Snyder on
Yelp users in select cities can now pay for food delivery or pick-up directly from the iOS app. Yelp began rolling out the new service called Yelp Platform in the U.S. on Tuesday. The new service allows iOS users to order from restaurants supported by "delivery.com and Eat24, like NYC's Harry's Italian Pizza Bar and Layaly Mediterranean Grill in SF," according to the official Yelp announcement. Yelp plans to roll out the platform category by category eventually adding new options like spas, yoga studios, salons and dentist appointments.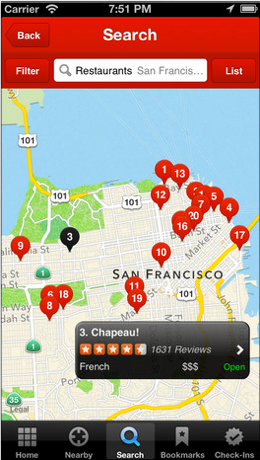 Yelp Platform will also be available through Yelps mobile or desktop websites, and an Android version is also in the works. Version 6.9.1 also brings a new preview screen after taking a photo. Current Yelp users can download the update starting today.
The Yelp app is a universal app for the iPhone, iPod touch and iPad/iPad mini. You can download it for free through the Apple App Store.