Submitted by Chad Shmukler on
Apple just announced at today's Apple "Let's Talk iPhone" event that iOS 5 will be a free update available to all users come October 12th. iPhone and iPad owners have been long awaiting the release of iOS 5 since its announcement earlier this year. The iOS has been through multiple beta releases with Apple's iOS developer community and is now ready for release.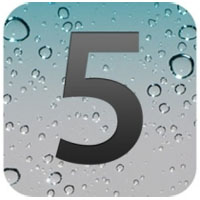 Apple has basically been reviewing iOS 5 features and has yet to make an announcement regarding what version of a new iPhone will be released. Rumors from earlier this morning suggest that Apple will not be releasing an iPhone 5 today, but will instead be releasing only the iPhone 4S.
Stay tuned for more updates from Apple's event. Before long we'll have word on what new iPhone is coming to market this fall, and hopefully some indications from Apple regarding what else is on the horizon.