Submitted by Colin Breck on
Every now and then you wish for something and you get it. That's essentially what is about to happen for me and a whole host of others who have been wanting more from iOS 5's Notification Center. It was just days ago that I wrote about Apple's biggest blunders with Notification Center and a few days later the developers at Intelliborn, developers of the popular Intelliscreen jailbreak app, have announced their latest app, IntelliscreenX. IntelliscreenX, as it turns out, is here to make Notification Center what it should have been in the first place.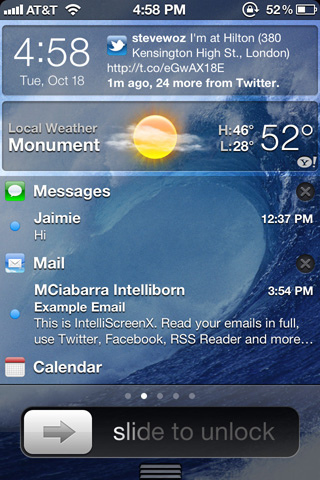 Like it's predecessor in Intelliscreen, IntelliscreenX's main purpose to to allow you to put all sorts of useful information on your lock screen. However, this latest incarnation does so by leveraging Apple's already excellent Notification Center, first and foremost by allowing Notification Center to be seen where it is most useful.
Thankfully, IntelliscreenX doesn't stop there. In fact, it goes on to address many of the notification center shortcomings I told you about earlier this week. Want to read, delete or mark emails read from within Notification Center? No problem. Want to see your extended Calendar on Notification Center? Done. Collapsible sections, post to Twitter and Facebook directly from the lock screen. We're also hoping for SMS quick reply, which isn't confirmed yet, but seems likely.
The features don't end there. IntelliscreenX is chocked full of useful features, tweaks and more. Check out the video above to see IntelliscreenX in action.
IntelliscreenX is only available now in limited beta, but Intelliborn hopes to release a public version within a week. Pricing is not yet known.