Submitted by Bob Bhatnagar on
Apple has recently admitted its devices running iOS 5 are experiencing battery life issues, and the company is planning to launch a fix in the next iOS firmware update. iOS 5.0.1 beta has been released to developers and promises to correct several issues affecting battery life in the mobile operating system. Several iPhone 4S owners have reported less than expected battery life and are awaiting the public release of the fix.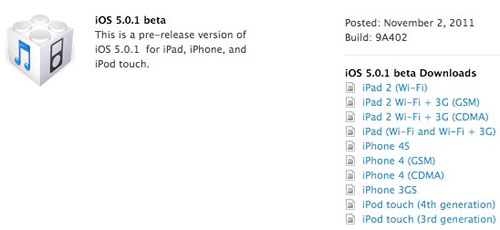 After a period of silence, Apple has finally announced they have found a few bugs responsible for the short battery life and expect to release iOS 5.0.1 to the public within a few weeks. In the meantime, iPhone 4S users and others running iOS 5 have looked to temporary fixes to improve iPhone battery life until the official fix is released.
iOS updates have caused battery life issues in the past, notably with the transition to iOS 4.1 and for some users the update to iOS 3.0. These problems are often based in the software and can be corrected by bug fixes in the next release of Apple firmware. The iOS 5.0.1 update also contains some surprises for iPad and iPad 2 owners.
Those who update the original iPad model to iOS 5.0.1 will get some additional gestures to spruce up their user experience. These four and five finger gestures provide different ways to pull up the multitasking dock, switch between different apps and return to the home screen. These multi-finger swipes were originally included in the iOS 4.3 beta however were only released to iPad 2 owners with iOS 5.
Last but not least, iOS 5.0.1 contains a bug fix to prevent iPad 2 Smart Covers from allowing people to access the last used app without entering a passcode. The trick was widely publicized in recent weeks as the auto-sleep function unintentionally will open last used app on the iPad 2 with a specific series of inputs using the Smart Cover. Although the security flaw is minor, it's nice to see that Apple is paying attention and fixing these items in firmware updates. For now, the major update is to the iPhone 4S battery, and now that iOS 5.0.1 beta is out users are one step closer to better battery life.