How can I update iOS over the air (OTA)?
Apple has added OTA (over the air) updating capability to iOS 5 and later. This means that instead of having to download hundreds of MB of iOS software to your computer you can easily update directly on your device. No more connecting the iPhone to the computer and waiting for the entire operating system to be replaced in its entirety. Only the portions of the firmware that need to be replaced are downloaded.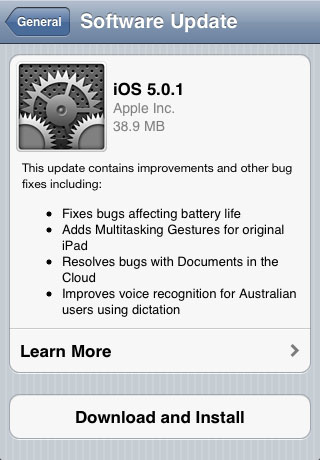 To update your iPhone OTA you must have iOS 5 or later already installed. Your battery life must be at 50% or greater or the iPhone must be plugged in.
Here are instructions to update iOS OTA:
1. Make sure you are connected to a Wi-Fi network
2. Navigate to Settings -> General -> Software Update
3. Your device will check for updates
4. When the available update appears tap Download and Install
5. Agree to Terms and Conditions
6. When download and installation is complete your iOS device will reboot