Submitted by Frank Macey on
Apple's universal reader app for iPhone, iPad and iPod touch has just been updated to version 1.5. The new iBooks adds several new features including a nighttime reading theme to ease eye strain when reading in a dark room. Some studies have shown that viewing LCD screens before bedtime can keep some people from falling asleep quickly. Maybe the new iBooks will help.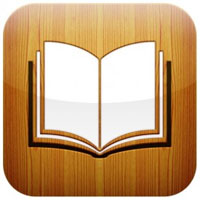 Apple has also added several new fonts including Athelas, Charter, Iowa, and Seravek for your reading pleasure. For those who may have been irritated by the book-like graphics that take screen real estate away from the text, Apple has added a full-screen mode to remove distractions.
The annotation palette has been improved and classic-looking cover designs now appear on public domain book covers. Select iBookstore titles will support pop-up footnotes in the new iBooks as well. Some might find reading on the iPhone difficult due to the device's small size, but it can come in handy in a pinch. Besides, iBooks allows hundreds of titles to be carried around with you at all times. Try that with your physical book library.
iBooks is a 20.7 MB download available for free on iTunes. Besides Apple's iBookstore there are thousands of free books available for download. iBooks 1.5 requires iOS 4.2 or later.