Submitted by Marshall Walker on
One week after the Chronic Dev and iPhone Dev Team helped pod2g release his untethered iOS 5.0.1 jailbreak for A4 devices, the iPhone hacker tweeted that the A5 version is only a week away from a public release.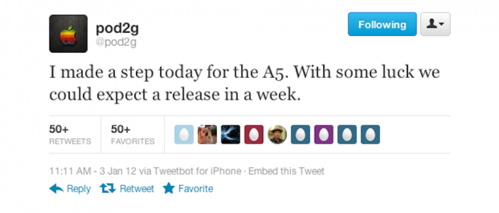 Pod2g enlisted the aid of the Chronic Dev team to release his A4 exploit so he could concentrate on A5 devices. The A4 untethered jailbreak was released on December 27 while iPhone 4S and iPad 2 owners were once again left out in the cold. That is all about to change in the near future according to pod2g.
The popular developer advised iPhone 4S and iPad 2 owners to upgrade to iOS 5.0.1, because he expects to be finished in about a week. In two separate tweets pod2g wrote:
"Yes, upgrade your 4S and iPad 2 to 5.0.1. I made a step today for the A5. With some luck we could expect a release in a week."
Pod2g also released the details about his A4 exploit for those of you who are interested. We will keep you updated on his A5 progress when new news breaks.