Submitted by Frank Macey on
Never deal with iPhone wires again. This is what the JuiceTank promises to deliver should the designers achieve their goal of project funding through Kickstarter. The case they have proposed not only protects the iPhone 4/4S from damage but provides two options for charging.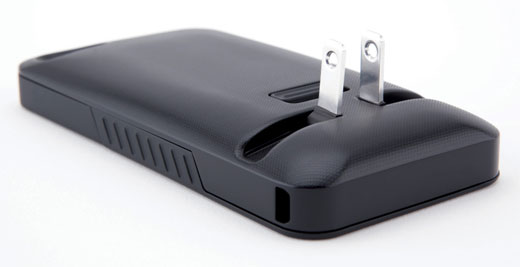 Flipping right out of the back of the case are two prongs for direct connection to a 110-240V NEMA 1/5-15 power outlet for quick and wireless charging. A micro USB jack is also provided for charging or syncing using a computer, although with Wi-Fi syncing in iOS 5 you may never need the cord.
Besides the collapsible outlet prongs, the JuiceTank features high grade polycarbonate for protection and a soft rubberized interior to protect the iPhone glass. There are wireless charging solutions on the market, but none that simply plug into the wall anywhere. The iPhone never really needs to leave the case and can be charged on the fly without carrying around any additional accessories.
The designers, Jesse Pliner and Lloyd Gladstone, have been working on the project for nine months along with engineers. They hope to bring the JuiceTank to market this summer at a retail price of $70. Check out the Kickstarter project page to find out more information or support the project.
With 55 days left at the time of this writing the project already has over 500 supporters, who have funded 20 percent of the JuiceTank goal. For a pledge of $75 backers will receive a limited edition JuiceTank with green accents reserved exclusively for supporters.