Submitted by Bob Bhatnagar on
Among 27 new patents granted to Apple today is an interesting wireless charging dock concept reviewed by Patently Apple. Basically, an inductive charging circuit makes the dock capable of charging an iPhone or other mobile device without a connector. The dock itself would be linked to a power source.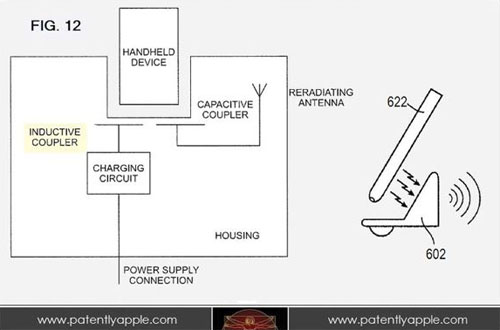 Just resting a compatible iPhone on the dock would initiate charging, while a reradiating antenna inside the dock would enhance the strength of nearby Wi-Fi signals. Presumably this wireless data connection would be used to sync the device while charging. Current iPhone models are already capable of automatic syncing while plugged into a power source.
Although there are many iPhone chargers out there, wireless chargers such as the Powermat combine a charging mat with a receiver case to eliminate cables. The convenience of tossing your iPhone down on a table and knowing it's charging beats fumbling with cables any day. Hopefully Apple will launch some of its own wireless charging accessories, with compatibility built-in to future iPhones.
The patent is titled Antenna Insert, and was filed on January 7, 2008. The inventors listed are Victor Tiscareno, John Tang, and Stephen Zadesky.