Submitted by Frank Macey on
Looking to use your iPhone in a harsh environment without damaging sensitive internal parts? Now with the Concord Keystone ECO MarineCase you can safely bring your iPhone underwater without sacrificing full functionality. The case is designed to protect an iPhone 4 or 4S in up to 20 feet of water.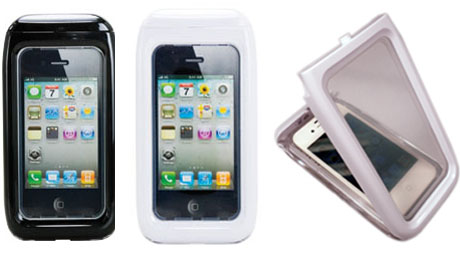 Whether it's dust, sand, snow or rain threatening your iPhone, the MarineCase keeps the device safely protected inside with secure locking design. With a rating of IP58 you never have to worry about using the iPhone while on the beach, fishing, swimming, kayaking or any other activities close to the water.
Clear protective silicon makes up the front of the MarineCase, which means the entire iPhone screen can be viewed and touched to use any app. Recording video and taking photos underwater is pretty cool, but you can send text messages or play music in the deep end as well. Just make sure you have a long enough tube on your snorkel. The only drawback is the flash can't be used.
In back, the Concord Keystone ECO MarineCase is made of a high impact polycarbonate hard shell. You can pick up the slim fit MarineCase in black or with a white frame, including a neck strap and user manual.