Submitted by Marshall Walker on
The new iOS and Android app Carat promises users better battery life by delivering tips on how to conserve energy. According to TechCrunch, the app was designed by a " top-notch" team of "M.S. and Ph.D scientists from the UC Berkeley electrical engineering and computer science department's Algorithms, Machines, and People Laboratory (AMP Lab)."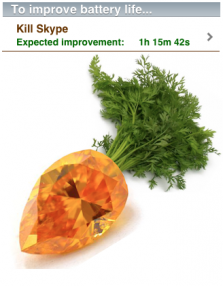 The free app uses gathered information from your device to decide what apps are hogging your iPhone's battery power. To do this the app has to take "measurements" from your device. This means you will need to allow it access for it to work. It also takes a few days to collect data before it can start sending you battery saving tips. So don't expect instant results.
Carat seeks out battery "bugs" and "hogs." Battery bugs are apps that are using too much energy because they're malfunctioning. Deleting and reinstalling these apps can sometimes fix the problem. Battery hogs are apps that require a lot of power to run. Apps like Skype, Yelp, and Pandora are considered "hogs" because they require much more power than most other apps. Carat will remind you to shut down or remove these type of apps if you want to conserve more energy.
Carat found that its first 100 users had 35 apps with energy bugs, and has since discovered thousands of others in the wild since its launch. Carat was not designed to make money. Its goal is to educate users and developers on how certain apps affect battery life.
If you're comfortable with Carat taking and using measurements from your iPhone, you can download it for free from the App Store.