Submitted by Chad Shmukler on
With the iPhone's beautiful and vibrant LCD, the last thing anyone wants to do is risk damaging or negatively affecting it. One of the most typical problems with LCD screens on mobile phones, smartphones, and PDAs is dust and dirt getting behind the screen. In many cases, what users identify as dead pixels is actually dust or dirt.
If you're like us, with the iPhone's two big, wide-open inputs, you might be feeling a little paranoid about dust and dirt getting inside the iPhone itself. If you carry your iPhone in your pocket, chances are every time you pull it out you'll find a bit of dust or pocket lint lingering in the dock connector. More worrisome, perhaps, is the headphone jack. When the LCD screen is illuminated, it's easy to see just how far down inside the iPhone offending particles can travel via the headphone jack.
The good news is that there's a neat and tidy solution to the problem - well, at least part of it. For usually less than $5, you can pick up a rubber dummy plug that protects the dock connector from unwanted particles when in your pocket, a purse, or wherever.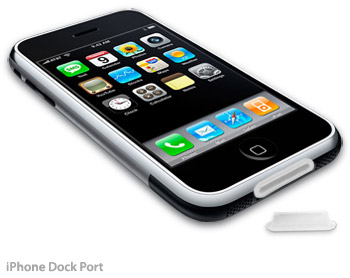 Here are a couple of links to some dummy dock plugs we found online, these fit the iPod too: eBay, RadTech.
Clearly, a similar solution must be available for the headphone jack, although the iPhone's recessed input may require a bit of customization or waiting for a iPhone jack protector to come along. If anyone has any helpful links to headphone jack protectors, please post them in the comments.