Submitted by Bob Bhatnagar on
Chances are you send a lot of messages from your iPhone. Now if your device is jailbroken you can speed up the process with a tweak named ImmediateSend. Why bother going to the Messages app every time you want to reply to an SMS or iMessage?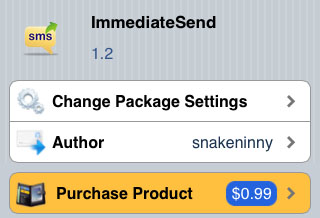 That's the theory behind ImmediateSend, which will deliver a pop-up box with simple options when you're interested in sending quickly. If the recipient of the message can handle an iMessage, that will be presented as an option, along with buttons for reply with SMS and go to the full blown Messages app. Just enter the text you want to reply with and tap the button of your choice.
ImmediateSend will mark the incoming message as read and send your iMessage or text. You can also initiate a message with ImmediateSend directly from the Contacts or the Phone app, without ever launching the Messages app. In fact, ImmediateSend works from just about anywhere on iOS including the lock screen, notification center and banner alerts.
Even though it's incredibly convenient when you already know relevant details of the conversation, there are times when you might want to return to standard messaging. In this case you can just navigate to Settings -> ImmediateSend -> OFF and the tweak will lay low until you turn it back on. Save time with this convenient tweak if your iPhone is jailbroken. You can find ImmediateSend on Cydia in the BigBoss repo for $0.99.