Submitted by Frank Macey on
With the iPhone 5 just over three months old, rumors and information have already begun to surface about Apple's next generation smartphone. The evidence so far points to summer 2013 as the tentative release date for an iPhone 5S. Apple is likely to improve on the iPhone 5 design with internal upgrades, while keeping the same form factor.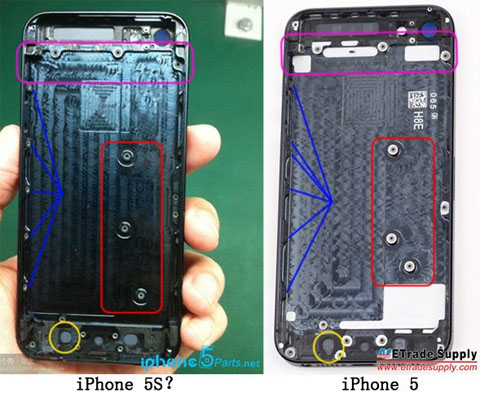 Photos have purportedly been leaked showing the back panel of the iPhone 5S, which exhibits several minor differences from the current iPhone 5 chassis. Most notably there are two screw holes on the inside of the backplate that have been shifted to a slightly different location. ETrade Supply released several photos showing the inside and outside of what they claim is the iPhone 5S housing.
If the iPhone 5S parts are genuine, the timing would seem to confirm a report from DigiTimes stating that Apple has started trial production of the iPhone 5S this December. Initial production volumes are expected to reach 50,000-100,000 units, with full production ramping up in early 2013. An iPhone 5S release next summer could put Apple on track for an iPhone 6 reveal ahead of the holiday season next year.
The iPhone 5S chassis has similar markings on the exterior as the iPhone 5, except that items such as the model number and FCC ID are only placeholders. Apple has been known to put placeholders in these positions on its prototype devices. Assuming the moved screw holes indicate a change to the logic board, the iPhone 5S could feature an upgraded processor or other improvements to its speed and graphics.